This Advent, the Faith Development Group (FDG) is sourcing the book, 'With Expectant Hearts' from the Diocese of Brisbane.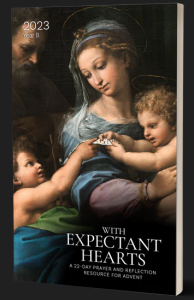 Here are some details about this Advent's resource:
This year's Advent resource invites us to explore more deeply what it means to allow God to come to birth in us. We have developed "With Expectant Hearts" to help us enter a new liturgical year, the journey of faith that stretches before us. The spiritual nourishment God seeks to give us now will come to birth in us through the entire year if we can open our hearts in response to it.
'With Expectant Hearts' is a new 22-day reflection resource. Its main purpose is to help us to find a few minutes each day to practice what it means to sit with God and to trust God to lead us forward.
Approximate Cost $7.00 each.
The FDG is expecting to offer at least two weekly small reflection group meetings. At this stage, one morning session in Barwon Heads and one evening group in Ocean Grove – both on a Tuesday commencing Tuesday 28/11/2023.
If you are interested in obtaining a booklet for personal reflection and/or would like to join a discussion group (let us know which one!), please contact either:
(Image Credit: image from Evanglisation Brisbane website)